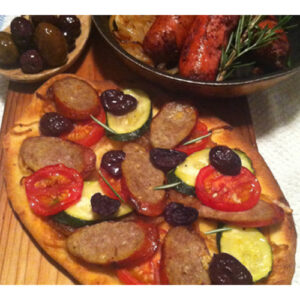 Provencal Vegetable Turkey Flatbread
Dairy Free Pizza Alternative
Ingredients
3 ¾

cups

olive oil

½

cup

smoked hot paprika

80

Norbest Italian Turkey Sausage Links

20

large

onion sliced thinly

4 ¾

cups

Kalamata olives, pitted and coarsely chopped

20

medium

zucchini. sliced thinly

80

plum tomatoes, sliced thinly

1 ¼

cups

Fresh rosemary leaves

¼

cup

fresh garlic, minced

Salt and fresh pepper to taste

80

pre baked Naan
Instructions
Preheat oven to 350° (325° convection oven)In a skillet over low heat, combine ¼ of the olive oil and the paprika and heat gently, stirring constantly to infuse the oil with the paprika. Toss the sausage links with the infused oil and lay out in a single layer on a sheet pan and place into preheated oven. Cook thoroughly to an internal temperature of 165°. Allow sausages to cool (this process can be done a day or two in advance)

Slice the cooled sausages on the bias into thin slices.

In a skillet, heat ¼ of the olive oil over medium high heat and add the sliced onions, cook the onions, stirring frequently, until golden brown and set aside. Onions can be used while still warm, but they can be cooked in advance, cooled and then reserved until ready for use.

Place the Naan (flatbread) on your work surface, spread an even layer of the sautéed onions over the top of each one and sprinkle the chopped olives over the top. Arrange sliced tomato, zucchini, and sausage on top of onions and olives.

Preheat your oven to 375°

Finely mince the rosemary leaves and garlic cloves and combine with the remaining olive oil. Brush the top of each flatbread with this mixture and season with salt and pepper Place the flatbreads directly on the oven rack and bake for 12-15 minutes until garlic starts to brown. Cut into desired sizes or serve whole.
Notes