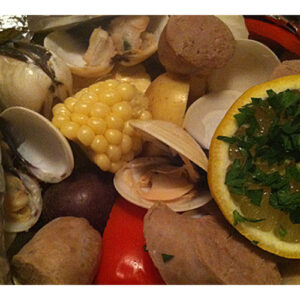 Turkey Sausage Clam Bake
These can be made in single portion foil packs for cafeteria or resident service.
Equipment
1 Sheet Pan

1 Tilt Skillet or Kettle
Ingredients
40

Norbest Italian Turkey Sausage Links

2 ½

gallons

cup chicken broth

1

cup

crab boil seasoning

10

lbs

small new potatoes cut in half

12

lbs

med onion, cut in quarters

40

red bell peppers, seeds removed, sliced

40

ears

corn on the cob, cut into 1 inch slices

40

lbs

small steamer clams (optional)

2

quarts

flat leaf parsley, coarsely chopped

3

cups

fresh lemon juice

Salt and fresh pepper (to taste)
Instructions
Preheat oven to 375°(350° if convection) Lay out sausages on a sheet pan in a single layer and bake until the internal temperature reaches 165°. Remove the sausages from the oven and cool. When cool cut the sausages into 1" lengths. Place the turkey link pieces, chicken broth, crab boil seasoning, and the potatoes in a tilt skillet or kettle and bring to a boil. Add all of the vegetables and parsley and reduce to a simmer.

Simmer for 10 minutes. Add the clams and cook until they just open, adjust seasoning and finish with lemon juice. Serve immediately.

<strong>Instructions on making a single serve foil pack for your café or residents</strong>

Place the turkey links, chicken broth, crab boils seasoning, and the potatoes in a pot and bring to a boil. Reduce to a simmer and cook until the internal temperature of the sausages reaches 165°. Remove from heat.

Preheat your Grill or Oven to 400°

Create a pouch with the aluminum foil by laying out a double layer of foil. I find it easiest to do this by lining a 13" x 9" baking pan with the foil.

Arrange all of the vegetables and the clams and sprinkle over all with the parsley. Remove the potatoes from the pot, and add them to the vegetables. Remove the turkey sausage from the pot and cut into 1" lengths, then add the turkey sausage and adjust the seasoning of the broth so that the sausage was cooked in to the to the rest of the ingredients.

Cover all the ingredients with another double layer of foil and fold the edges of the top and bottom layers together to form a sturdy seal. Fold the bottom layer up and over the top to keep the liquid in, rather than the top under the bottom.

Place the packet into the preheated oven or onto the hottest part of your grill and cook until the packet puffs up and steam is escaping from the seams. Remove from the heat and carefully cut a slit in the top and peel open. Finish with a squeeze of lemon and serve.